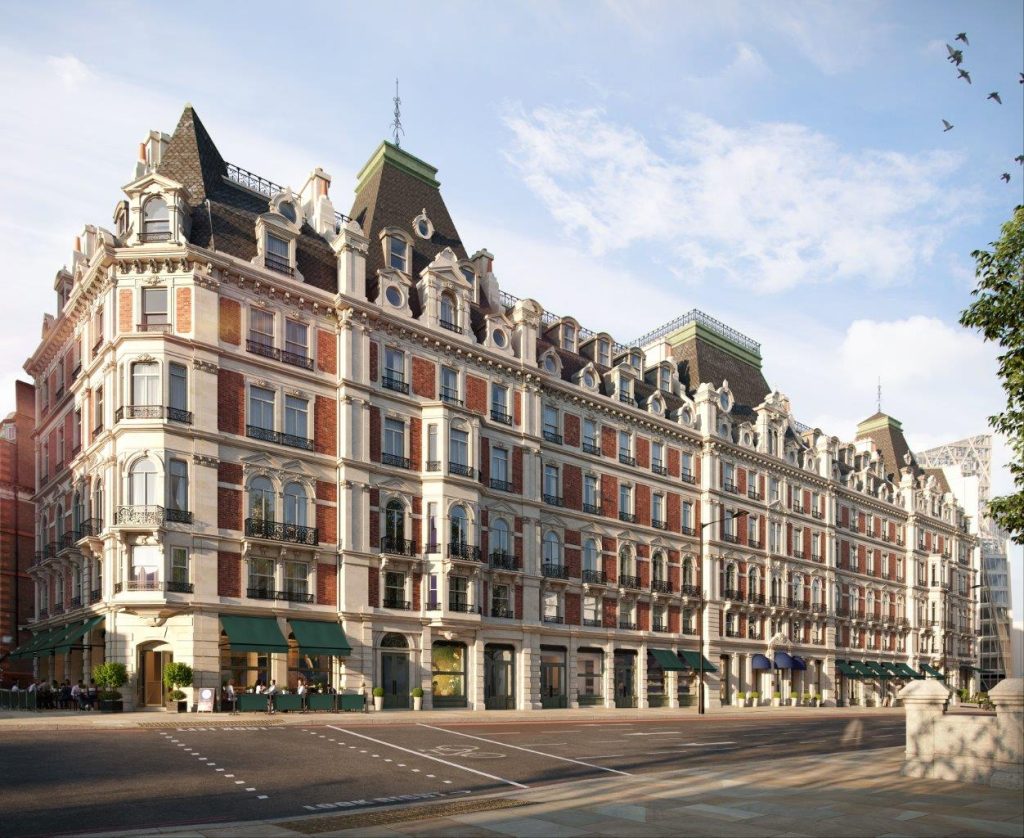 8 Eaton Lane sales launch!
This month marks the official sales launch of 8 Eaton Lane, one of prime central London's most anticipated residential developments. A prominent part of the original Grosvenor Estate, 8 Eaton Lane is now undergoing a meticulous restoration and rebuild to become a collection of 42 residences and seven retail units. The original, striking façade, overlooking Grosvenor Gardens, will be fully restored, with contemporary high-end apartments set behind, facing onto Eaton Lane. Developer CIT Group has already seen strong interest in the project, exchanging on circa 30% of the residences in pre-launch sales.
The Grade II listed building dates back to 1863, with an illustrious history as one of Belgravia's prime addresses. Commissioned by the Marquess of Grosvenor, 8 Eaton Lane was first conceived as Belgrave Mansions, a private residential building with a number of boutiques at ground level. Home to many notable families of the time, Belgrave Mansions was developed around the continental idea of 'Hôtel Meubles'; urban, centrally-located, serviced residences, the very first example of this style of living in London.
8 Eaton Lane also has strong ties to the grand European mansion houses of the 19th century thanks to its beautifully ornate façade. The building's architect Thomas Cundy III, who was a close peer of 'the builder of Belgravia' Thomas Cubitt, drew significant inspiration from the Parisian styles of the French Second Empire and the New Louvre. Details such as the striking roof mansards, lavish stone dressing and 'oeil-de-boeuf' windows evoke a highly decorative European aesthetic. In 1921, the building was reimagined as the Belgrave Hotel until the 1930s, when it was used as office space and named Grosvenor Gardens House.
Overseeing the restoration of the building's ornate façade and the creation of the 42 new residences is renowned architecture practice PDP London. Inside, interior architecture and design studio Millier London will be creating exquisite spaces that marry the French renaissance architectural detailing with an elegant, classically British sensibility.
At the helm of 8 Eaton Lane is developer CIT. Experts in the transformation of heritage buildings, the team most recently spearheaded the much-fêted development of London's only Grade I listed new build, Regent's Crescent in Marylebone. Completed in 2020, Regent's Crescent has been one of London's most successful Prime Central London schemes.
Chris Richmond, Head of Residential at CIT, comments: 'We are honoured to be ushering this incredibly special building into a new era as 8 Eaton Lane, whilst returning it back to its original use as a sought-after private address. Finding a site with genuine, authentic history is rare and 8 Eaton Lane will offer future residents the unique cachet of living within one of the original buildings of the Grosvenor Estate, alongside the very best in contemporary living.
Looking ahead, we will be carefully selecting our retail partners who share our long-term vision of creating a new, vibrant destination for Belgravia at 8 Eaton Lane.'
8 Eaton Lane is enviably positioned with the boutiques, restaurants and cafes of Belgravia's Ebury Street and Elizabeth Street on its doorstep, whilst cosmopolitan Victoria, with its excellent connectivity, is also a stone's throw away.