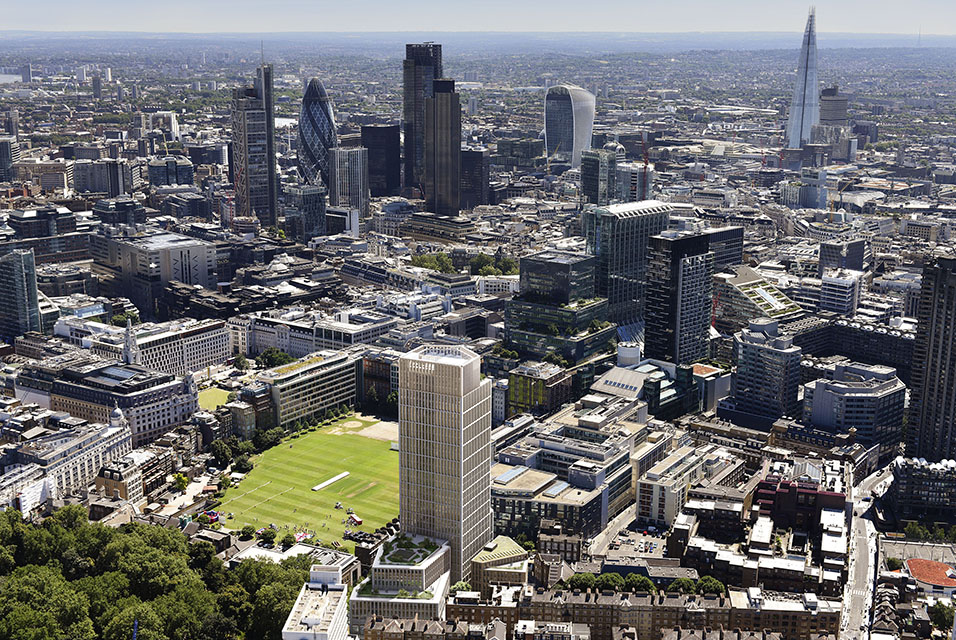 CIT Begins Work on Mixed Use Development: Finsbury Tower
Redevelopment of this landmark building in a key growth-area of London has commenced, with debt financing from Brookfield and Apollo.
Independent private equity real estate investor and developer CIT, has today announced that it will commence work on Finsbury Tower located at 103-105 Bunhill Road near the Old Street Roundabout in Central London. With a commitment of development debt from Apollo Commercial Real Estate Finance, Inc. (NYSE:ARI) and Brookfield, work is now underway to transform the existing 153,000 sq ft office building to over 310,000 sq ft of retail, residential and office space across 29 storeys
Consent had previously been obtained by CIT to create a brand new Grade A, office-led scheme at the site, with practical completion due in Q3 of 2021. Craig Johnston, Chief Operating Officer of CIT comments, "This scheme will deliver highly sought-after office space, alongside new retail and improved public realm in the Capital's tech district between Old Street and the City Fringe. We are pleased to be moving forward with this exciting development and working alongside Brookfield and ARI."
This debt package was originated by Brookfield and represents the company's  first loan into the UK commercial development market, as noted by Andrea Balkan, Managing Partner and Head of Brookfield's Real Estate Finance Funds, "We invest and operate in a number of property sectors and countries, and this diversified, global approach allows us to identify unique investment opportunities. This project with CIT and ARI will augment our current real estate debt portfolio and underpins our confidence in the strength and resilience of the London commercial market.
Ben Eppley, Head of Commercial Real Estate Lending in Europe for ARI also commented, "The project potential for the Finsbury Tower Development, combined with the opportunities to work with CIT as an experienced developer and collaborate with Brookfield as a co-lender were key decision making factors for us. We think that the area has substantial  growth prospects and look forward to the project progressing." 
Home to a diverse range of businesses active in the area, the Old Street and City Fringe location is becoming increasingly appealing to the technology, media, telecommunications (TMT) and creative industries. Finsbury Tower will provide a wide range of flexible office floorplates from 6,000 sq ft to 24,000 sq ft, designed to meet the needs of modern flexible working.
According to Shaun Simons, Director & Co-Head of City Fringe at Colliers International, "The offering at 103-105 Bunhill Road is extremely rare. The scale of the building allows for a variety of floorplates in the heart of the Old Street district well suited to accommodate a range of company sizes and types. The development will also be innovatively set up as a creative campus, with enough clientele to demand its own tailored retail and restaurant brands." Office letting agents representing the development include BNP Paribas, Cushman Wakefield and Colliers International.
In addition to the new office space, the development will deliver over 20,000 sq. ft. of revitalised public realm, incorporating attractive landscaping and new pedestrian routes. Ground floor frontage, including a stylish parade along Bunhill Row, will house a range of independent retailers and restaurants, providing a diverse offering for residents and tenant employees.