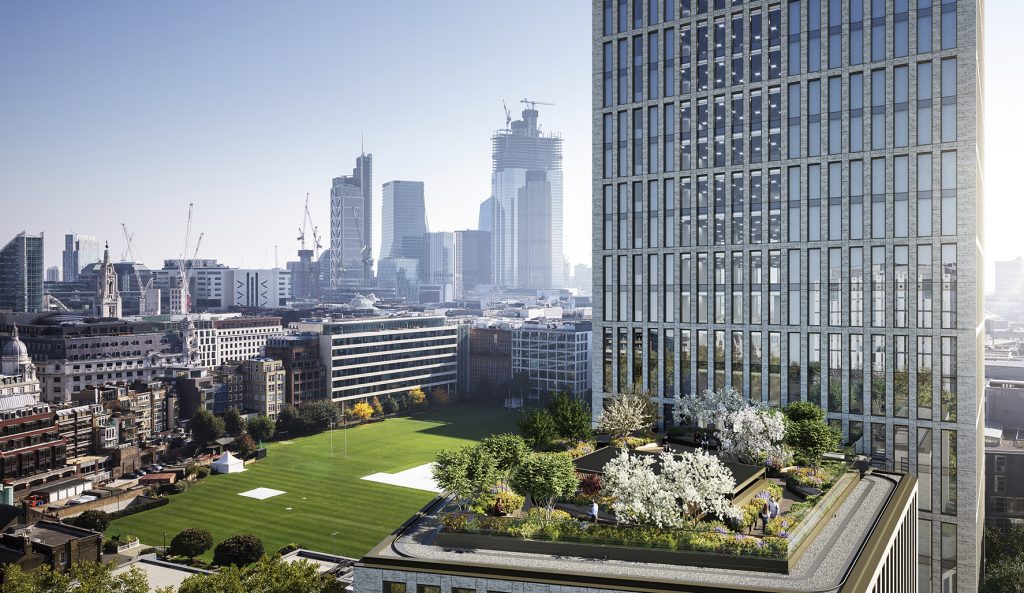 CIT launches HYLO, the creative office development redefining Old Street
CIT has launched HYLO, a design-led work and lifestyle office development comprising 278,000 sqft of office and retail space, in Bunhill Row ideally positioned between the traditional core of the City and the vibrant creative zone of Old Street.
Boasting 29 floors with uninterrupted views of London's skyline, flexible office floor plates, new retail space and impressive building amenities, HYLO is transforming the area into a destination for corporate and creative talent.
CIT achieved planning permission for the site in 2017 and spearheaded plans to extend the existing tower by 13 storeys. Designed by HCL Architects with interiors by Stiff + Trevillion, HYLO delivers 261,143 sqft of office space, 17,130 sqft of retail and over 11,000 sq ft in terraces across four floors providing multiuse spaces, for work, rest and play. HYLO will also introduce over 20,000 sq ft of new public realm.
The wellness of the talent occupying HYLO has been front of mind in the building design, with floor to ceiling windows flooding the space with natural light and green spaces created across four floors of the building. Talent will benefit from a building designed with lighting systems created to reduce fatigue, acoustics that encourage better concentration and communication and air filtration to minimise ill health.
HYLO tenants will enjoy the latest building amenities and specification with unparalleled views across London, while plans for landscaped roof terraces, breakout spaces and dining areas will create a relaxed environment away from traditional desks. In addition, talent will benefit from generous locker and shower facilities, as well as cycle storage for over 400 bikes. An expansive ground floor reception incorporating a modern lounge and cafe will make HYLO a social hot spot all day.
The Old Street area has become one of the most desirable business and lifestyle destinations in London. Bordered by Shoreditch to the north and the City of London to the south, HYLO provides a link between two traditional industry hubs. Several tube stations are all within a short walk, including Old Street in five minutes, Moorgate in six and Liverpool Street in nine minutes. In addition, the regeneration of the Old Street Roundabout into a pedestrian and cycle friendly route complements HYLO's public realm and wellbeing initiatives.
Steve Riddell, Managing Director Developments, CIT said, "As the line between corporate and creative becomes more integrated, our aim is to provide a workplace solution that offers flexible spaces that embrace collaboration and connectivity at the same time. We are excited for HYLO to become the defining destination in the Old Street district."
HYLO is due to complete in Q2 2021. The leasing agents are BNP Paribas Real Estate, Cushman & Wakefield and Colliers. For more information visit www.hylo-london.com