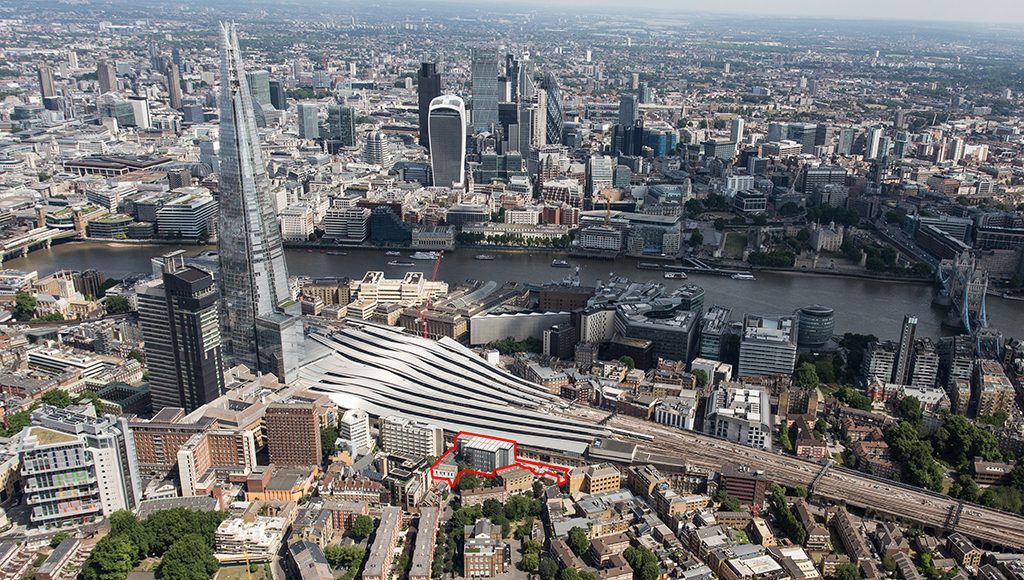 CIT and Union Car Parks acquire former car park site in Southwark
CIT and Union Car Parks (UCP) have today announced the exchange of contracts with Network Rail for a prime development site on St Thomas Street in London Bridge.
The 0.6-acre former car park site, known as Vinegar Yard, is owned by Network Rail and currently used as a work compound for the redevelopment of London Bridge station. CIT and joint venture partner, UCP, plan to regenerate the site into a new mixed-use development, which will complement the ongoing enhancement of St Thomas Street and the wider transformation of the London Bridge area.
CIT has delivered a number of successful developments in Southwark, including the transformation of South Bank Tower, a previously unused office block on the South Bank, and the Greater London Authority and Ernst & Young headquarter buildings at More London. The firm's portfolio also includes sites in Kensington, Marylebone, City of London and most recently, Finsbury Tower on the City Fringe.
Craig Johnston, chief operating officer of CIT, comments: "CIT has maintained a diverse portfolio of property developments across London, delivering some of the city's most exciting landmark schemes. The Vinegar Yard site represents the latest in a series of CIT projects on the South Bank, an area that has seen significant growth – both residentially and commercially – over the last decade. It is an exciting new opportunity to bring forward a mixed-use scheme in this well-established business district, and be a part of one of the capital's most prominent regeneration areas."
Ben Scrimgeour, UCP Managing Director and Owner comments: "With CIT's impressive track record in the borough, the development of Vinegar Yard will further the regeneration taking place in and around London Bridge. We look forward to working closely with
CIT and utilising its experience in Southwark."
Ben Scrimgeour most recently redeveloped and now operates Flat Iron Square, on another site belonging to Network Rail near London Bridge, which opened last year and is already recognised as one of London's best street food and entertainment venues.
David Biggs, managing director of Network Rail Property, said: "This deal is a terrific example of Network Rail partnering with the private sector to unlock land for mixed-use development, while generating funds to reinvest back into the railway. Development on railway owned land, particularly around stations, helps support positive regeneration in our towns and cities and is a major catalyst for the creation of jobs, housing and economic growth."
Kohn Pederson Fox has been appointed as architects for the project, following CIT's collaboration
with the renowned architecture firm in the redevelopment of South Bank Tower.
Network Rail is currently rebuilding London Bridge station as part of the Thameslink Programme. The final section of the huge, new street-level concourse and newly rebuilt platforms 1-5 will open on 2 January 2018. January marks the start of the final countdown to the completion of this modern station with better facilities, new journey options and– throughout 2018 – a vast array of new retail facilities to continue the regeneration of the area.
CIT and UCP will now begin work on proposals for the site. Plans are expected to be submitted in 2018.
Network Rail was represented by Jones Lang LaSalle.