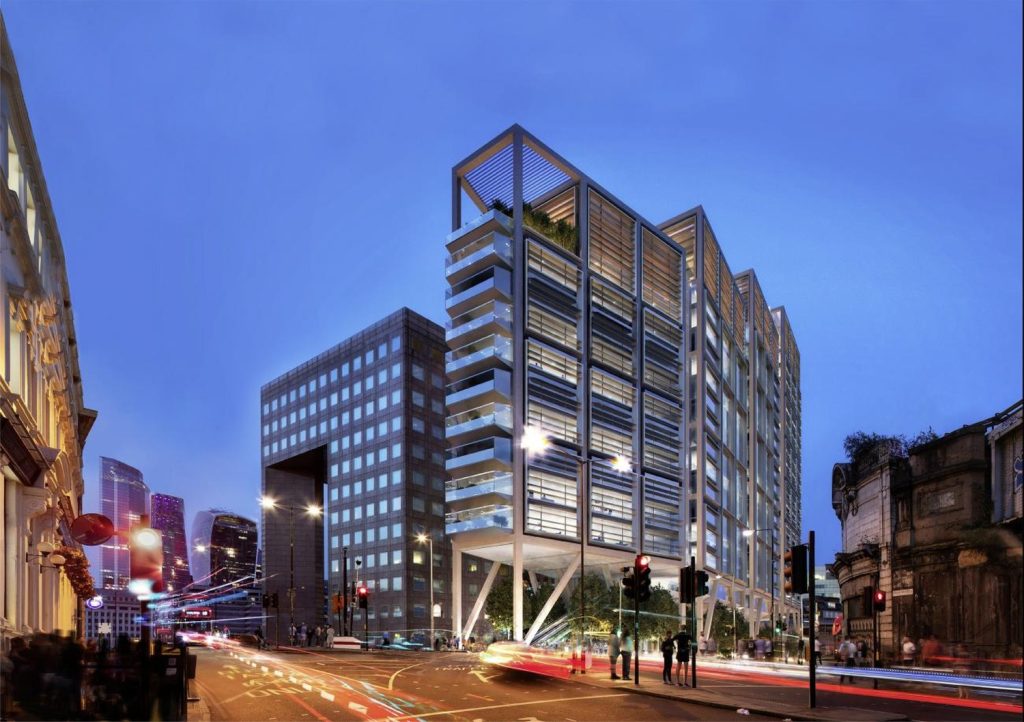 The ground breaking net zero transformation of Colechurch House has been approved by Southwark Council
CIT are delighted to announce that we have successfully received planning approval from Southwark Council to redevelop the Colechurch House site in London Bridge into an exemplar mixed-use, net zero, scheme providing 518,588 sq ft (GIA) of highly sustainble prime office space for businesses to thrive, an expansive new public park and home for the popular Southwark Playhouse Theatre.
Deisgned by Foster + Partners, the new ultra-sustainable development replaces the current 1960s office block with a striking stepped profile scheme which rises up to 22 storeys at its highest point. With large floorplates spanning just over 19,000 sq ft on typical floors (net area) and generous outdoor terraces, the sustainable and well-being driven office space will suit the needs to today's occupiers, in this exceptionally well-conneted location at London Bridge. A highly optimised façade will significantly reduce energy consumption, supported by mixed-mode ventilation (opening windows), ground source energy piles and on-site green energy generation comprised of extensive photovoltaic panels (enough to power 100 homes per annum). Winter gardens are situated on every floor and verdant roof terraces will ensure ample spaces to unwind. There will also be an automated underground cycle storage system with over 200 systems, and End of Journey facilities for communters.
Colechurch House's net zero carbon sustainability credentials and levels of occupier amenities are groundbreaking and market leading – exceeding current minimum standards for carbon reduction and providing a best-in-class sustainable building and amentity for office users.
The scheme targets:
Carbon dioxide savings of 55% relative to standard UK building stock
Compliance with the RIBA 2030 Climate Challenge and Paris carbon reductoins to limit global temperatures to less than 1.5 degress celcius
75% savings in operational energy
Outstanding BREEAM rating
Platinum Well standard rating
The development 'floats' above an extensive new park that includes squares and flexible spaces that can be used for a range of community-led events thorughout the year. The layout of the development will open up historic views of Southwark Cathedral and local heritage uildings for the first time.
Below the park, a brand new multi-storey venue for Southwark Playhouse will be delivered, bringing the award-winning theatre back to its roots in London Bridge, and opening up exciting new possibilities for its youth and community programme. Together with the local shops and kiosks, the building and the new public realm will be a vibrant destination that can be enjoyed by the public and occupiers of the building alike.
In addition to the new public realm, a new lightweight footbridge will connect London Bridge Station to the development site on Duke Street Hill, replacing the current brutalist bridge and London Bridge Walk. Beyond physical space, the development will deliver true social impact, creating ciruca 3,000 permanet jobs, of which 400+ will be for the local residents.
Steve Riddell, Partner and Head of Development at CIT, comments: "Modern occupiers demand the best in ESG credentials, and our new Colechurch House development is set to be a genre-defining building that will lead the way for sustainable office space, placemaking and community value in the heart of London Bridge – one of the capital's best connected locations that has evolved dramatically over the past decade. Designed collaboratively and priortising social and environmental wellbeing, the net zero development will also provide far reaching benefits for Southwark through the new theatre space, public park and significant employment opportunites. Following extensive community consultation, the addition of a new lightweight footbridge ot our plans will create vastly improved communter access."
Luke Fox, Head of Studio at Foster + Partners, says: "As architects, we have a responsibility to leverage the power of design to positively influence public life and steer urban development towards a more sustsainable, diverse and equitable future. Colechurch House is an exemplar project in this regard, and we look forward to working with CIT to make this prioneering project a reality".
Tim Wood, Chair of Southwark Playhouse, comments: "This is a hugely positive result, which will bring us back to London Bridge with a brand new, purpose-built venue that provides us with much needed capacity, critical to ensuring the future of our organisation. We look forward to inspiring and showcasing the next generation of storytellers, theatre-makers and performers, as part of an industy-defining sustainable development that will bring a range of benefits to the local area."
Colechurch House reinforces CIT's longstanding commitment to the area. Earlier this year, CIT also received planning permission to develop a major new medical and life sciences scheme on the Vinegar Yard site just a short walk from Colechurch House. Designed by architects Kohn Pedersen Fox Associates, in close collaboration with Guy's & St Thomas' NHS Foundation Trust and King's College London, it will be one of the first buildings within the BioMedical Hub on the London Bridge Campus and part of SC1, London's new Life Science District.