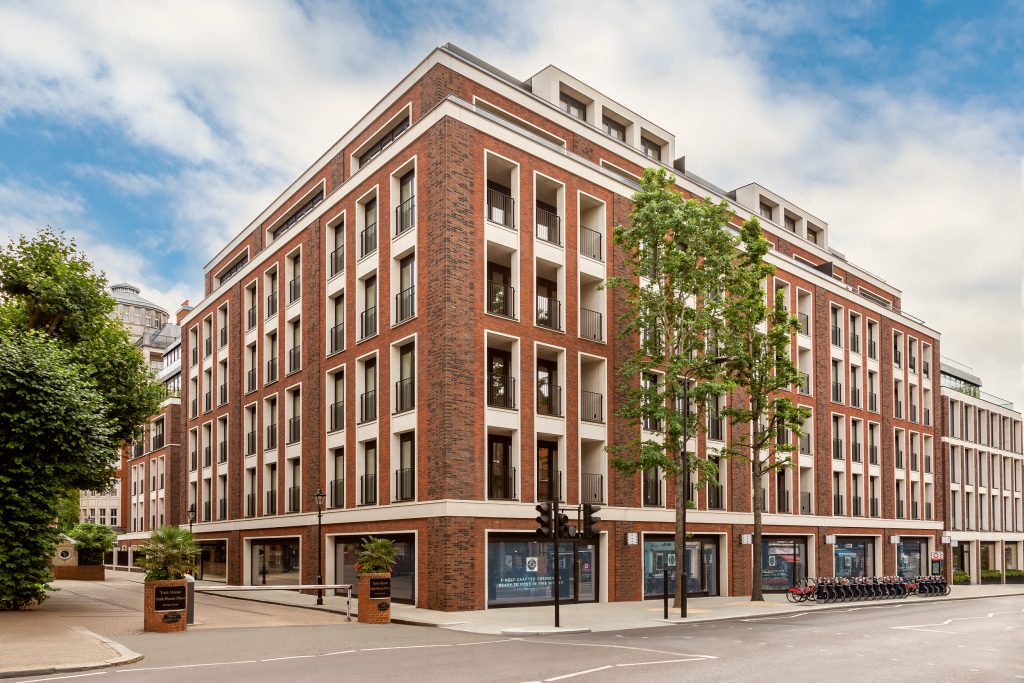 Lancer Square achieves practical completion
September 2021 — Nestled in the heart of West London's affluent urban village of Kensington, Lancer Square sets a new residential standard for the area. The 212,000 sq ft development,  completed in July 2021, draws inspiration from the site's palatial and horticultural past as the original Kensington Palace grounds and kitchen garden. Lancer Square combines state-of-the-art contemporary low-rise living with access to unparalleled wellness amenities, architecture and interior design by renowned British firm Squire & Partners, a secluded garden with mature landscaping and contemporary art installation, close proximity to London's best retail destinations and cultural landmarks, and all within the fabric of a community rich in history. Behind the project are Bellworth – International award-winning developer, a subsidiary of LGB Group and specialists in niche developments of world-class properties – and development manager CIT.
The newly built mixed-use scheme offers an exclusive collection of ultra-prime residential, office and retail units to create a new and elegant enclave which enhances and enlivens the Kensington community. Comprising three blocks ranging from six to seven storeys, including two residential buildings containing 36 private one to four-bed residential apartments and three penthouses with rooftop views, and a high-spec office block, all of which have been finished to the highest standards. One of the few new-builds in the area, the development also houses 7,000 sq ft of world class amenities including a gym, spa, 20m swimming pool, sauna and treatment rooms, discreet entry and private parking for the residences, and an exceptional concierge service led by Rhodium. Early Autumn 2021 will see the first residents arriving, and to date, over 60% has been sold.
"Our commitment to creating best in class properties is realised in full at our first ever development in London, Lancer Square. The prestigious project in London's iconic Kensington neighbourhood establishes our international expansion. As the newest addition to the historic Kensington community, we hope to bring a new vibrancy to the area through exceptional residential, retail and commercial spaces. The contemporary residences and lifestyle amenities make Lancer Square one of the most desirable new developments in the area for a decade." Kevin Kuok, CEO Bellworth
"We believe Lancer Square represents the very best of London living. The historic location combined with the state-of-the-art contemporary residences, and easy access to London's cultural life and local community, make this a truly unique offering. We've brought together the best in British architecture, design and craftsmanship to create a legacy property. The street level retail and restaurant spaces will be the new heart of Kensington, and an internationally recognised prestige destination." Chris Richmond, CIT
Lancer Square's vision includes a curated and elevated retail and dining offering within its 14,000 sq ft of retail space spread amongst six ground floor and basement units. As a result, a new destination will emerge in the heart of Kensington marking a return to its former vibrancy. In addition, the 48,000 sq ft Grade A office space adjacent to the residential and retail spaces will bring a significant influx of professionals into the community and will offer 3,500 sq ft of terraces including a rooftop for the exclusive use of tenants.
Belllworth appointed the award-winning British architecture and design practice Squire & Partners for their international reputation for architecture informed by the site's history and culture. Drawing inspiration from the site's horticultural past and its royal neighbours, Squire & Partners has delivered a contemporary interpretation of the architectural character found within the Kensington Palace Conservation area. The textured two-tone brick façades and vertical window proportions create connections with Kensington Palace whilst celebrating traditional and contemporary craftsmanship. The Squire & Partners team led the design process not only for the developments' Masterplan but the interiors scheme which includes the residences, amenities, public spaces, garden and courtyard, retail and office space.
Tim Gledstone, Squire and Partners comments, "Lancer Square represents a rare opportunity to extend the urban village of Kensington with a development steeped in the area's history. Originally home to Kensington Palace kitchen garden, the site later became Kensington Barracks housing cavalry and infantry including the Royal Lancers.
Squire & Partners' design organises the site with a cluster of elegantly proportioned buildings set around a landscaped public courtyard, taking influences from the Palace's courtyards, Orangery and Sunken Garden. Three distinct buildings – housing apartments, workspace, shops and cafes – enclose the square with an architectural language drawn from Kensington Palace and the surrounding Conservation Area. Two different tones of handmade brick combine with crisp limestone and delicate metalwork to create elevations which celebrate contemporary and traditional craftsmanship, and establish a new destination for living, working and dining in Kensington." Located on the doorstep of London's cultural institutions, magnificent parks and leading schools, Lancer Square introduces a new landscaped pocket garden, visible from Kensington Church Street, continuing the tradition of west London garden squares and paying homage to the former use of the site. Recognised for its site specific commissions, artist Based Upon has created 'Wonder' – a sculptural installation which draws inspiration from nearby Kensington Gardens.
The Marketing Suite is open at Three Lancer Square, and appointments are now being taken to view the show flat, with interiors designed by London based studio 1508 London.